It sounds a little dramatic, saying that CoSchedule revolutionized my blog. You might be wondering how that's possible, given that we're going on the second year of Blogging Onward and I am literally just now beginning to use CoSchedule. — That's how great it has been. While I've been working on writing new content for my memoir writing ebook which builds on my memoir writing  post series, doing extensive copywriting projects for clients, and researching projects for Wicked Horror I haven't had time to make my usual rounds of scheduling social media posts. If you're a blogger or writer of any kind, you understand that not being able to announce your work to the world is essentially committing your content to the pits of Hades, never to be seen or heard from again.
…That was before CoSchedule.
I'm an avid blogger, writer, editor, and general busy human. Running your own business isn't easy, especially when you're the one pulling all of the strings. In the past I was able to schedule social media posts for a week or more at a time by utilizing Buffer. Even though the process literally involves copying and pasting information into a window, I was at the point where I was considering hiring virtual assistants to help pick up some of the scheduling slack. (Yes, it was that bad. Although you may not realize it, copywriting is a time consuming process. More so than simply writing a blog post alone might be. You have to become a chameleon and write based on what the client wants, what their industry is, and who their customers are.)
I considered Edgar, because the thought of scheduling a post once and then having a program rotate through different categories of posts to share was incredibly appealing, but $49 a month was much less reasonable. My blog is a passion project. I'd love to be able to sell ads on the side or make big bucks through referrals/affiliate links. Unfortunately, that's just not in the cards. Until it is, or until I am rolling in copywriting work, I don't see myself paying that kind of money for a social media scheduler.
In comes CoSchedule. It's not just a social media scheduling tool, but it is that as well. It's a whole new interface with the CoSchedule Title Analyzer that I discussed in my post about free writing resources for bloggers and writers built in. It gives me the option to schedule my posts on my blog and all of my social media channels. (All except Instagram, anyway. I do my Instagram scheduling through Later.) It can pull information from Evernote and Google Docs, which means that I now have a convenient way to write posts when I'm on the go/across devices without having to fiddle with the (sometimes wonky on mobile) WordPress website. (I still have to access the site to schedule, but it's much less annoying to be able to draw content from another source when I need to.)
To give you an idea of how intuitive the software is, I took a few screenshots (Click to view full size):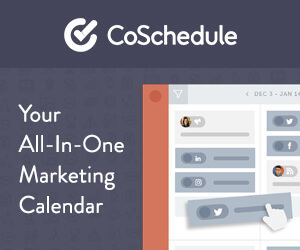 The beauty of CoSchedule is in how easy it is to use. I didn't get a screencast of using it, but thankfully the folks at CoSchedule made a video outlining the assortment of features, including scheduling posts on all the networks I use. (Of course, being a sole blogger I can't utilize many of the team features and task management tabs, but the social scheduling and visual calendar features are enough that I'll continue using it.)
Note: By sharing a review of CoSchedule, I am eligible to receive 50% off a year of CoSchedule. With that said, I wouldn't be writing a review saying how awesome it was if I didn't actually love it, and I wasn't actually interested in getting the paid version of it to use. So this is kind of the blogging equivalent of "sorry not sorry". I'm not actually getting money for this, I just get a discount to use the product I reviewed, which I wouldn't care about unless I liked it in the first place. Make sense?